Welcome aboard to new member Ken, KA6KEN. Ron lives in Goleta out near the coast. He does phone contests only these days but hopes to get his CW chops up some day. His very busy schedule currently has him picking and choosing contests. He organized Field Day events for the Santa Barbara ARC in 2018 and 2019 and helps AC6T and K6AW maintain the UCSB W6RFU station and antennas. He owns the Santa Barbara Electronics Supply and co-owns Impulse Advance Communications and Impulse Telecom (a CLEC). He is looking forward to participating in a multi-two or MM contest with other hams in the near future.
Also, welcome aboard to new member Paul, W8GJK (picture at left) in Los Osos. He has been casually operating contests for many years, mainly as a means of DXing. He has recently become more interested in contesting on its own. He is a professional communications tech and is looking to learn more about contesting. He was first licensed in 1994 as a teenager. Paul's other interests include aviation, skydiving, electronic music, motorcycling, and travel. His QTH is just
within the 175 mile ARRL club circle for SCCC. Welcome Paul!
The ARRL DX CW is one of the most popular contests of the year. SCCC members reported improved conditions, especially on 15 and 10 meters. Bill, N6RV said conditions were great! His European run was longer than his JA runs! He thinks this year was his personal best. Jim, W6YA did a single band 15m effort and was surprised at just how good the band was. However, the only continental African he heard was CN8KD. Ken, K6LA was at VY2TT and said that 15 was amazing. 10 only opened for him for a handful of Europeans. Kurt, W6PH reported conditions were like the old days except that 10 wasn't quite open and 15 is getting there. Mults were way down for him but he found plenty of stations to work in EU and Asia. He also put a ton of JA's in the log on all bands except 10. There he had just one JA. This was only his second entry in this contest from California. He had gone to VP9 for the previous 20 years. Marko, N5ZO operated casually, stating that his station is built more for domestic contests. He played with his IC-7610, spending time comparing it to his K3. He said that the 7610 seemed to receive a bit better on the high bands but it also seemed to experience a bit more hash from the K3 during SO2R. Dick, W6TK reported better conditions than recent years. He decided to go unassisted and had fun "tuning the knob" and picking out stations. He lamented that some of the DX stations don't ID often enough. He was pleased with the JA showing in the contest!
Larry, K6RO did his operating between packing boxes for his upcoming move to Fallbrook. He too was happy to have the high bands playing nicely. Roger, W6LAX echoed that. He mostly ran low power and did all S&P. Bruce, WA7BNM did single band 20 meters and found conditions into Eastern Europe great on both mornings of the contest. He observed that participation from SA, Central America and the Caribbean seemed to be down. Dana, K6NR said these were the best conditions in a long while. He was able to run a lot of JA's on multiple bands. Paul, K6PO got his amplifier and yagi working and had a lot of fun with those. He had some good JA runs on 15m with OH and SM coming in over the poles at the same time. Terry, N6CW was out in Arizona at W6XI where he put up a 3-band inverted vee to compliment the existing 160-40 antennas. He set a goal of 1,000 Q's and 1M points for himself, and easily achieved both. He reported fair conditions Friday night, good conditions Saturday during the day and a nice opening to Europe on 160 that night. During the last hour on 15m, the JA's were so loud that he decided to switch from S&P to run mode. He put 120 Q's and 7 mults in the log in that last hour! Tim, N6GP experienced very good conditions at the beginning and end of the contest but not as good in the middle. He also reported 40 and 80m being surprisingly quiet. John, W6JBR said that conditions were so good that he decided to run barefoot. Having 10 and 15m open was great, he said!
On February 7, it was announced that Bob and Sarah Heil have transferred ownership of the well known Heil Sound company to current President and CEO, Ash Levitt, and Director of Operations, Steve Warford. Sarah Heil has retired, but Bob will continue to do outreach work and product design within the amateur radio space under the title Founder and CEO Emeritus. Heil Sound has a long history of helping hams (and the pro-audio field) achieve great sound. Read more about it on the Heil Sound web site
here
.
ARRL has announced a new World Wide Digital Contest to debut on June 4. All non-RTTY modes are permitted and 160-6 meters (excluding the WARC and 5 meter bands) will be permissible. The ARRL RTTY Roundup will revert back to a RTTY only contest going forward. More information can be found
here
.
The
2021 CQP (California QSO Party) results
are in and SCCCers set some new records! Marko, N5ZO operated with the club call NT6Q and took 1st place SO HP and Kurt, W6PH took 2nd! Axel, KI6RRN won the SOLP category. George, W6AYC was 2nd and Paul, WN6K was 3rd. David, N6AN used the W6AQ club call and took the top spot in the SO QRP category, giving the SCCC first place finishes in all three categories this year! Bruce, WA7BNM placed 3rd and David, K6FA was 4th. In the SO(A) HP category, Jim, W6KC using the W6ML club call was 4th with Paul, W7IV using the KK6P call in 5th and set a new single Op SSB only record. SO(A) LP had Frank, WA6KHK on top. Dave, W6ZL right behind him in 2nd and Roger, W6LAX in 5th. Ryan, AI6DO placed 2nd SO(A) QRP with Ron, K2RP using K6P finishing 4th. The SCCC amassed 4.3M points with 30 entries to win the new Joshua Tree Club Competition. Congratulations to all!
The raw scores for the ARRL January VHF Contest have now been published. Tim, N6GP is currently showing as 3rd place in the Limited Rover category. This can be a tough contest for SoCal stations this time of year. Check out the scores
here
.
Preliminary NAQP CW results from the January event have also been published. Tree, N6TR on SCCC #1 placed 9th overall in the Single Op category. Marko, N5ZO finished 2nd in SO Assisted. The SCCC #1 team finished 8th overall. The scores can be found
here
.
In the
February 16 ARRL Contest Update
, a new spotting rule was announced and it goes into effect starting in June for all ARRL HF Contests. "Starting with the ARRL International Digital Contest, in all categories that allow assistance (Unlimited), the use of online and other non-amateur radio platforms including but not limited to social media, live video streaming, and internet chat rooms will be allowed. In all Unlimited and Multioperator categories, the prohibition of self-spotting, and asking another station to spot you, will also be removed." In reviewing the CAC report of July 20, 2021, Section 2020.5, the committee recommended this change, noting that CW and Digital are already self spotting due to Skimmers. This rule change simply brings SSB into the fold. The report makes for interesting reading, especially in light of the debate that immediately appeared on the CQ-CONTEST reflector. Read the report
here
.
Another "contest" update coming this year pertains to Field Day. That's "contest" in quotation marks because the ARRL does not consider Field Day to be a contest. The SCCC over the years has sometimes disagreed and gone all out, balls to the walls, and even set a record or two in this "event." But I digress. After conducting a "FIeld Day community survey," some new rules will be implemented this June. Those are:
(a) the maximum PEP transmitter output used by anyone submitting a Field Day log will be 100 watts. The high power category will be removed from the rules.
(b) "A couple of changes instituted initially as accommodations for the COVID-19 pandemic will remain. Class D (Home) stations will continue to be able to earn points for contacts with other Class D stations. The club aggregate scoring change initiated in 2020 as a temporary measure will become part of the permanent rules. In the aggregate scoring plan, the scores of individual stations are combined under the score of a single club."
(c) Field Day participants will now be
required
(emphasis is mine-editor) to obtain publicity and to demonstrate same for the event.
Read up on these changes here on the
ARRL website
.
Another couple of SCCCers have appeared recently on the
QSO Today
podcast hosted by Eric, 4Z1UG. Arnie, N6HC was the subject of
Episode 389
. Arnie was first licensed in 1957 at age 13 and is an active DXer and CW op. He tells how he got into amateur radio, how he chose the medical profession, and a bit about the SCCC. Mark Beckwith, N5OT (formerly WA6OTU) was the subject of
Episode 368
. Mark grew up in SoCal and was a founding member of the SCCC. He talks in the podcast about how the SCCC started. I remember first meeting Mark at an SCCC meeting in Pasadena way back in the late 1970s. Mark talks about his mentor, Dave, W6AQ and other topics. Mark now resides in Oklahoma. Both podcasts are a lot of fun. Enjoy! (QSO Today podcasts can be listened to on the web or on many podcast apps. It is audio only...there is no accompanying video. However, there are show notes on the web.)
Check it out! Way back in late 1980, the SCCC Sprint CW team was organized by Jim, N6TJ. He came up with a new team name at the time. WASP. Winning Alliance of Sprint People. This story appears in the October, 1980 club bulletin and is shown in our Historical pages. Check it out!
The CQP Contest Committee is looking for a few plaque sponsors for the 2021 event this past October. The notice from Dean, N6DE follows.
Here's your chance for your callsign to appear on a California QSO Party (CQP) plaque, recognized by a high performing CQP effort, and listed on the
CQP.org
awards and results pages as a plaque sponsor.
Out of 49 plaques earned in the 2021 CQP, we have sponsors confirmed for 45 of them. Thank you to all our amazing plaque sponsors for their support! We have 4 plaques remaining that are open for sponsorship:
CA Top YL - HP
CA 1st Place Multi-Single, Fixed Station CA 2nd Place Multi-Multi, Fixed Station US/VE/DX Top S/O-Assisted QRP
Sponsorship is $60 per plaque.
You do not have to commit to sponsoring any of these plaques forever. We're just looking for CQP 2021 sponsors. Next year, you'll be given the first option to continue sponsoring your plaque, with no obligation to continue.
Please email me at cqden6de [at] gmail.com if you're interested.
73...
-Dean - N6DE
CQP Chairman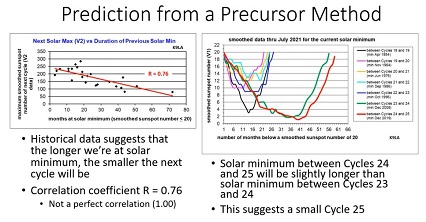 Carl Luetzelschwab, K9LA was the presenter at the February San Diego DX Club meeting. The topic was Solar Cycle 25, our current cycle. It was a very interesting one. One of Carl's charts was a prediction using the precursor method. Using this method, it as been shown that the shorter the solar minimum, the smaller the next cycle peak will be. This suggests a small Cycle 25. Drat! Let's hope this one breaks the trend! He expects it to peak in 2025.
Strange but true...
The U.S. Mint once considered producing doughnut shaped coins!
73 for now,
--Dennis NE6I
less