Officers
President: Dick Norton, N6AA n6aa[at]arrl[dot]net
Manager for SCCC Sprint and NAQP Teams: Doug Brandon, N6RT n6rt[at]arrl[dot]net
Secretary, Treasurer, Membership: Bruce Horn, WA7BNM bhorn[at]hornucopia[dot]com
Webmaster: Jim Forsyth, AF6O
webmaster@socalcontestclub.org
Ionospheric Disturbance
November 2013
Alarmed by the massive ionospheric disturbance detected within the Arctic Circle on the weekend of November 23-24, a team was dispatched to locate the source and determine what was causing it.
As they arrived in the Mojave area of Southern California the field strength was so severe that Rudolph's nose had turned a sickening crimson color. Meanwhile the old bearded guy in the red suit was in a very jolly mood having spent the last several hours sipping from a bottle of Jack Daniels that had been conveniently stowed in the back of the slay.
After a few minutes triangulation the source was located and a picture (left) was taken as evidence of the 15m RF that was emanating from the N6MI contest van. When confronted with the photographic evidence N6MI came up with a not to be believed story to explain what he was doing out in the desert on a Saturday evening. An appropriate entry was made into the naughty/nice book.
JT5DX Contesting From Mongolia - Chak Choigonjav JT1CO
December 2013
Our contest station JT5DX is located 370km northwest of Ulaanbaatar capatal city of Mongolia. It is 15km away from the Russian border. It takes about 5-6 hour using public transportation and 3-4 hours with car to get to JT5DX contest station from Ulaanbaatar.
It is located in my company "Arvin Khur". Arvin Khur is an Agricultural company located at JT5. The company mainly plants wheat and Canola and also sell products such as Cold pressed Canola Oil, Natural Honey etc.
It is about 20-35 degree celsius in the Summer and -15- -35 degree celsius in the winter. During fall there are many mosquitoes. It is also very close to the Selenge river.
more
CQ World Wide DX Contest CW Claimed Scores
November 2013

  HR2J(N6AA)  SOABHP    6,626,073      WA6URY     SOABHP    327,642
  K6NA        SOABHP    3,571,020      W6KY       SOABALP   202,261
  K6NR        SOABHP    1,396,440      NE6I       SOABAHP   154,936
  N6RV        SOABLP    1,191,330      W6SJ                 111,800
  W6TK        SOABAHP   1,121,956      WN6K       SOABALP    96,596
  N6WS        SOABAHP   1,107,288      KQ6ES      SOSBHP     86,526
  AA6PW       SOABAHP   1,000,494      AF6O       SOSBLP     83,884
  N6MU        SOABLP      522,368      NK6A       SOSBHP     66,785
  N6PE        SOABHP      501,847      N6IC                  57,477
  N6MI        SOABHP      473,344      W6GMU      SOABLP     53,988
  W6QU(W8QZA) SOABQRP     374,680      WA7BNM     SOSBLP      2,280
  ZF1A  (K6AM M4PN K5YAA)                        M/S HP  16,166,214
  OC4CW (K6ZH N7CW OA4TT)  (1/3 points to SCCC)  M/S HP  11,838,694
  NX6T  (N6KI WQ6X N0DY K4RB NN6X N6EEG)         M/2 HP   5,473,380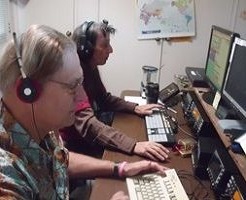 N6XT MULTI 2:
Very good condx from start til Sunday morning when A index shot up to 8 and 10 and 15 mtrs didn't play as well as Saturday afternoon. Had a fun time running Multi-Two so our multi-op group were kept busy for all but 1.5 hours.
This was the most QSOs we have done from our portable site and hope to keep improving on station setup and antennas in the future. 70 ft Tower Trailer w/ 2el 40, 3el SteppIR 80m & 160m Inv V Dipoles. 40 ft Tower Trailer w/ 2el 40, 3el SteppIR. 2 K3s, 2 ACOM 2000A Amps. - N6KI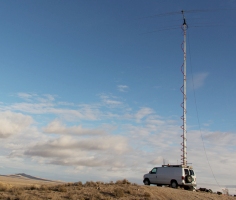 N6MI CONTEST VAN:
J. Scott Bovitz,
N6MI
, is an enthusiastic little pistol and a proud member of the Southern California Contest Club. Business prevented Bovitz from enjoying the recent surge in sunspots (the second peak), so he was hell-bent on participating in the 2013 CQ WW DX CW contest in late November.
After studying the weather.gov pages, Bovitz drove 200 miles looking for a break in the rain and snow. Finally, the rain stopped for a few hours south of Mojave. Bovitz camped on a small rise with a good view in most directions. Bovitz was three hours late into the contest and exhausted, so he worked a few folks and went to bed. The rain started again and did not stop for 24 hours.
Bovitz woke at dawn on Saturday and found his milk was frozen...but the higher bands were hot and never dried up.
watch ham van video
CQ World Wide WPX Contest CW 2013 Results
November 2013


         WQ6X         M2           2,199,040            WA6URY       SOHPALL        202,958
         K6NR         SOHPALL      1,471,613            K6HRT        SOHPALL        172,059
         W6SX         SAHPALL      1,134,765            N6HD         SAHPALL        165,220
         AF6O         SOHPALL      1,022,994            KM6Z         SOQRPALL       151,510
         WN6K         SOLPALL        635,250            K0NW/6       SOHPALL         77,056
         N6ZFO        SOHPALL        444,978            KI6X         SAHPALL         44,354
         N6QQ         SAHPALL        333,928            NK6A         SAHPALL         36,716
         N6MI         SOHPALL        290,880            N6VH         SAHPALL         27,126
         N6MU         SOLPALL        285,430            K6IFF        SOLPALL         21,805
         N6HE         SAHPALL        281,410            K6KAL        SAHPALL          7,584


SCCC Wins Yet Another Gavel - N6NB
November 2013
The results of the 2013 August UHF contest are now online at ARRL.org, and SCCC won the club competition. Unlike the June VHF contest, in which SCCC just barely outscored the Potomac Valley Radio Club (by 30K out of 1.3 million points), this one was a blowout.
SCCC had 1.1 megapoints. The next highest club aggregate score was about 250K.
Our score came mostly from rovers. N6NB had the top rover score, followed by KI6FGV and the family duo of N6EY and N6KYS. Sharing a station under the family rule for the first time (they were married three weeks before the contest), they tied for third nationally. Another married couple, W6TTF and WA6WTF, tied for sixth.
The UHF contest has only included a club competition for five years, but SCCC has now won four gavels in this contest. Surely the rules will be changed soon!
ARRL Sweepstakes SSB Claimed Scores
November 2013

        VY2TT(K6LA)  SOUHP          274,896            N6QQ         SOUHP           92,462
        AA6PW        SOHP           230,906            WA6URY       SOHP            51,538
        W6TK         SOUHP          172,142	       K6ZED        SOLP            21,000
        N6ER         SOLP           107,244

        NX6T(K6AM NØDY N6AN N6CY N6KI W2PWS)                        MOHP           324,198