ED1R was founded in the summer of 2010. It is located in central Spain, in a small village of around 500 people in the province of Avila, about 100km from Madrid, 167km from the Portuguese border and 311km from the Atlantic ocean, towards North America. The village is around 1100m (about 3600ft) asl, on flat land and good takeoff towards North America.
The location is a small plot of land belonging to EC1KR's father, in amongst a vegetable garden. Space is limited, around 300m². We started by planning 4 towers, and after doing the welding work for installing rotators and masts, installed them (one 23m high tower, one 16m high, and two 12m high). We then installed our first antennas, a 2 element M² yagi for 40m, 4 element monoband DXBEAMS for 20 and 15, and a 5 element DXBEAM for 10.
We also put in a lot of work to the shack. Currently we have a spacious four position operating area, sleeping space for 5, a shower and toilet, and a small work area.
From 2011 to 2014 we carried out extensive antenna work, we now have a fifth tower and we have made significant improvements thanks to the work done by our chief engineers DH1TW and EA4TX.
We have some interesting hardware, such as the 4O3A high power bandpass filters.
We have a beverage switchbox which allows us to route the RX antenna signals to all of the rigs in the shack
We use a 4O3A high power triplexor which allows us to use the Optibeam OB11-3 tribander on 3 bands at the same time, effectively making it into 3 monobanders.
We have stack matches based on the SJ2W boards and use the EA4TX ARS control boxes with DH1TW software to control all the TX/RX antennas through wintest, our chosen contest software. All rotators are also controlled using an EA4TX designed ARS rotor control which allows mouse-controlled operation.
Finally, we have another Spanish-made accessory, which are adaptable interlocks for use in either Multi-single or Multi-2. These are made by
radio-applications.com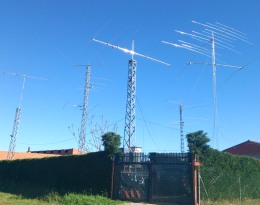 The group of operators is comprised of people of different levels of skill and experience. We operate international contests in SSB, CW and RTTY. Our station is optimized for either MS or M2 but we have done a few MM contests too. We are especially active in CQWW, CQWPX, RUSSIAN DX, and His Majesty King of Spain.
The operators are: DH1TW, EA1ASC, EA1FAQ, EA1AR, EA1CJ, EC1KR, EB3CW, EC4DX, EA4TD, EA4TX, EA4SV, EA4ZK, EA4AOC, EA4GBV and EC4TA.
We have been happy to receive visitors from many EA friends, some of whom contest with us, also operators from Italy, Germany, Russia, Ukraine, and Portugal.
We confirm all QSLs received via the bureau and direct via EC1KR although our preferred method is via LOTW and all QSOs are uploaded as soon as a contest is over.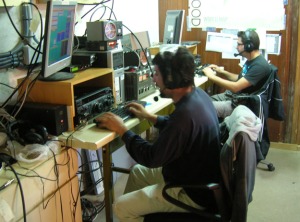 Over the past 3 years we have managed to obtain notable improvements in our results due to hard work and optimization in the station, We are not able to install larger towers and in Spain large installations are not looked upon kindly so we have to compete with what we have, notwithstanding this we have managed to get into the top 5 or top 10 in all the international contests and also win a few too.
A point to note is the participation of EA stations in international contests, we see that from one year to the next there are more stations and better prepared. This improvement is noticeable over the last 5 years and finally we feel we are able to compete with some of the central European "big guns".
We look forward to working you on the air!
73 and happy contesting
EC1KR Jesus (ED1R)
www.ed1r.com
close