We are now well into the fall/winter contest season, and many of you have been quite active. There have been some really good scores too. Even though we are at the low end of the sunspot cycle, there is plenty of fun to be had. So get those stations on the air!
Speaking of stations, if you're interested in making yours available to a guest operator, or you'd like to be a guest operator, or if your multi-op effort needs an operator or two, be sure to post on the SCCC Reflector or let me know. Let's keep So Cal active!
Recently, there was some excitement that a group of sunspots that were observed in late August possibly signaled the start of Cycle 25. It feels like we have been at the bottom of Cycle 24 for a long time, perhaps made worse in our minds by the relatively poor peak back in 2014. In April of that year, the smoothed sunspot number reached 81.8, the lowest peak since the early 1800's. So hopes were high that we had turned the corner. Not so, said The Royal Observatory of Belgium's Solar-Terrestrial Centre of Excellence. Experts there stated that those particular sunspots belong to the current solar cycle, not 25. Oh so close...
NCJ has published the final results of the July NAQP RTTY now. The SCCC #1 team finished 13th. Axel, KI6RRN finished tops in California, and just missed making the top ten overall. Levi, KK6NON took 4th place in California.
The final results of the September North American Sprint CW were also published by NCJ. The SCCC #1 team took 5th place in this one. Marko, N5ZO finished 10th overall and 4th in California. Dan, N6MJ was close behind at 5th in California. Marko, by the way, had the top Golden Log in the contest with 314 QSOs!
The CQWW DX CW has just ended as I write this particular paragraph. SCCC was out in force, and conditions seemed particularly good compared to recent months. We didn't even have a solar flare or other disturbance to rain on CW weekend for a change! It was fun watching the battle on the scoreboard between TI7W (KL9A) and ZF1A (N6MJ) throughout the contest. Dan held the lead early on but Chris later pulled in front, and slowly built his lead. As the contest wound down, Dan began climbing back, but alas, Chris's lead was too much to overcome. A mere 3% separated the two final scores (a 652 QSO difference in a horse race where both had over 9,000!). To give some perspective, K5ZD finished 3rd in the category but was 9.7 million points and about 6,300 QSOs behind Dan in 2nd. Wow! The Contest Online Scoreboard reported that ZF1A had the highest hourly rate at 372! Sheez! Also out on DXpeditions were Jim, N6TJ at KH7M, Marko, N5ZO in Russia using RM0F at the QTH of UA3DPX and I believe Dick, N6AA was out somewhere as well. We had a really good turn out for this contest. It's great to see that. However, with 181 current members in our circle, we have some work to do to get even more activity. By the way, I ran across an interesting write up of some of the history of the CQWW DX contest on
CQ's web site
.
more
The warm up for CQWW DX CW was pretty amazing on Thanksgiving Day. Normally, I have a house full of people here and am busy in the kitchen as the head cook. This year was different. Most of my family was out of state, and the rest were out of town. I was home alone. You know what that means. HAM RADIO! I could see the slow build up of DX on the bands earlier in the week but Thursday was amazing. Contesters were busy warming up, testing their stations and checking propagation all day. The bands were lit up despite a meager SFI of 69. There was choice DX operated by experienced contesters on everything from 20 meters through 160, with a few racking up QSOs on 17 and 15. I might have to invite the family to go out of state again next year! I didn't realize what I had been missing!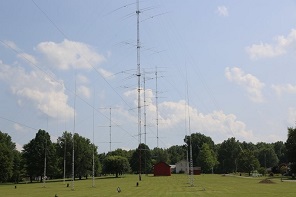 Last month we talked a little about the young guns from SCCC operating at ZF1A. Elsewhere, there is another batch of youngsters that are starting to make some noise. Team Exuberance, as they are known, are out to prove that contesting is not just for us older guys and gals. Violetta (KM4ATT), Bryant (KG5HVO), David (VE7DZO), Chris (KD8YVJ), Dhruv (KC9ZJX), Marty (KC1CWF) and possibly Mason (KM4SII) are going to be traveling with their parents to the K3LR super station in Pennsylvania to operate the CQ WPX SSB contest in late March. You've probably already worked some of these kids in recent contests. They are very active. Some have already had the good fortune of operating from some other big MM stations. These 14, 15 and 16 year olds are coming on strong. To help pay for their trip to PA, they have established a GoFundMe page with a goal of raising $5,000. As of early December, generous contesters have already donated about $3,000! I know that several of you have already donated. All funds will be used for transportation, hotels, meals and other trip expenses. If you'd like to help support these youngsters, visit
Team Exuberance
. And if you'd like to read about their excitement around contesting, look up their calls on QRZ.com.
John, KK9A posted on the CQ-Contest reflector last month about a video he had found on YouTube. It's the story of the N2AA MM operation in CQWW DX Phone at the K2GL super station back in about 1981. Their main competition? The famous W2PV MM group! It's a fascinating story, dating back to a time well before computers became a fixture in our ham stations. The video is posted elsewhere here on our web site. Enjoy...
A fascinating discussion about radios and microphones for SSB contesting also took place in November on that reflector. Once upon a recent time, good quality boom mic headsets were few and far between, and contesters generally settled on the one or two models out there. Nowadays, the selection is larger. And some say that even inexpensive headsets work well with modern transceivers that now have microphone equalization capabilities. I hadn't thought about that but it makes perfect sense. We all want a headset that is very comfortable. And it has to still be comfortable some 48 hours later (for those super long contests, right?). That is first and foremost but a very close second is one with contesting friendly transmit audio. Some have options to tailor the frequency response across one or more settings. However, modern rigs allow even more customization. There is a whole discussion about rolling off low frequencies and focusing transmit power on somewhat higher audio frequencies. There is some thought that doing so provides more punch and more output power in the desired audio range. I'll leave that to others to debate. Me personally, I am attracted to a more rounded sounding caller than one who has radically rolled off the lows. It's easier for me to pick out someone with well rounded audio in a pileup than one leaning toward tinny. Each to their own of course. That aside, the discussion on CQ-Contest has been interesting. In case you missed it, you can find it in their archives. I would love to hear from SCCCers on this subject on our reflector. To start the discussion, I have a Heil Pro-Set Plus and have really liked it over the years. I haven't fooled around with my rig's mic EQ yet but it might be time to do so! What about you?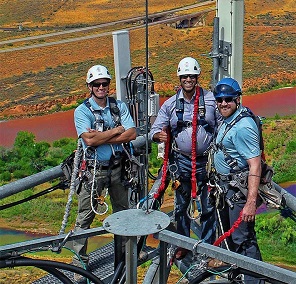 Did you ever think you would see an FCC Chairman on a tower? In August, Chairman Ajit Pai (center) climbed to the top of a 130 foot cell phone tower near De Beque, CO. Naturally, he donned the appropriate safety gear. The self supporting tower is located off I-70 between Aspen and Grand Junction. "The Chairman's site visit served to reinforce the prominent role communications tower owners, contractors and technicians continue to play in enabling connectivity to all sectors of our diverse economy," stated David Sams, Vice President of Risk Management at SBA Communications. Republican Representative (TX) Pete Olson had recently asked Pai when he was going to climb a tower, reminding him that his colleague, Commissioner Brendan Carr had now scaled two towers. Mr. Pai joked that he might climb a 10 ft. tower, noting Carr's youth and fitness. (Carr had previously climbed a 2,000 ft. tower in Rowena, SD.) He later committed to climbing the 130 footer.
"It was an honor to have FCC Chairman Ajit Pai join us today at one of our company's towers in Colorado," said David Sams. "The Chairman's site visit served to reinforce the prominent role communications tower owners, contractors and technicians continue to play in enabling connectivity to all sectors of our diverse economy."
BIC. The acronym is well known by contesters. Billing Item Code? No. Barring Incoming Calls? No, but if we can figure out how to do so for the many robocallers, then YES! Best In Class. Well yeah, maybe, huh? Because I Can. Definitely! But none of those are what us contesters know BIC as. We know it as Butt in Chair. It has to do with being at the operating position as long as possible. If you aren't there, you aren't working the other guys. A good debate took place on the CQ-CONTEST reflector recently on operating chairs. As is often the case on that particular reflector, there were dozens of personal opinions. Some I agreed with and some I didn't. In the case of an operating chair in the shack, we need to find one that meets OUR needs. Comfortable. Not just initially when we sit down but after hours and hours of contesting. Sometimes we sit in that chair for a full 48 hours, or close to it. In such case, it had better be darned comfortable and not be killing our backs hours into it. High back, short back or medium back? Arm rests or no arm rests. These are personal preferences. As is the material. Leather? Faux leather? Cloth? While it's very interesting to hear and read about all of the personal opinions, only YOU can determine which chair fits the bill for you. I would only add this. Don't skimp on your chair. And don't hang onto an old chair that once was your favorite but is now causing some discomfort. We spend a good deal of money on our radios and on our antennas. We should never settle for a chair just because it was an incredible bargain. If you get a quality chair and one that is right for you, it will add to and prolong your enjoyment of the hobby. And you won't limp out of the ham shack after a few hours chasing contest Q's. Get a good one. BYC. Because You Can.
Strange but true...
You may be surprised to learn that a Boeing 747 jet is longer from wing tip to wing tip than the distance of the Wright Brothers' first airplane flight!
73 for now,
--Dennis NE6I
less