If you use to tune up the bands during main contest of the year you probably had the chance to copy and work "Delta four Charlie" callsign on all bands.
This call is used to identify a team specifically born for contesting: The "Monteverde Contest Team" It is composed of six members, HB9DUR Andrea, I4UFH Fabio, I4YSS Vic, IK2NCJ Luca, IZ4DPV Max and YL2KL Girts and started the activity in November 2007 when D4C was on-the-air during CQWW DX CW as M/2.
The station is located on the Island of Sao Vicente, one of the ten islands that make up the archipelago of Cape Verde. Monteverde is the name of the mountain where the station has been established.
Monteverde is 2100 ft high positioned without any city building and this gave us the possibility of exploiting a very quiet place with very low "take-off" angles in any direction.
Like all good things, even here there is a flip side, not very pleasant, due to a very high daily wind speed (around 35Mph) and high humidity that very often changes to a terrible fog. All this makes a very stressful environment for both humans and hardware.
The shack is 1200 square feet inside a property of about 86,000 square feet. The house has 2 bedrooms, 1 bathroom and a large open space where all 6 band positions can take space together with the kitchen.
Outside, 8 towers from 45 to 120 feet high are covering the entire area, that also includes a small garage that houses a 60KvA power generator.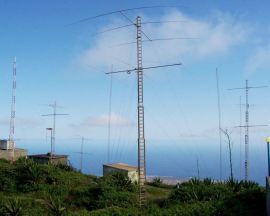 Because everything was erected from scratch, starting with D4B activity (the previous owner), we had the possibility to design a specific hardware according to the location.
The first thing we wished to eliminate was the rotators. It is easy to imagine how long they can resist in such an environment.
So we have all fixed antennas, 4 in each band from 10 to 20 (yagis) and 2 for 40 and 80m (2 el. delta loops). For top band we use a quarter wave vertical with 60 radials and we use a HI-Z 4 square + beverages for receive on the low bands.
To control all the hardware we don't use any commercial devices. All the automatic switching system have been designed and built by ourselves. This includes a 6X4 antenna switch (antennas for 6 bands shared automatically between 4 positions), band-decoders and antenna switches.
Underground we put about 1500 feet of ½" coaxial cable and about 300 feet of 7/8" coax plus several thousand feet of electrical cables for services.
About 5 tons of materials have been shipped from Europe from 2007 till now to allow us to turn into reality what was first designed on paper.
D4C has been active in all modes from 160 to 2m, collecting more than 250,000 qso's.
On 6 meters we have a beacon running on 50.034 and very often it is spotted as the only signal on the band.
Due to our position this often happens also on 10m during contests.
We are generally active in the Multi op categories, from M/S to M/2 but we started in CQWW CW 2012 to join M/M category and this has been replayed on 2013 both SSB and CW. If you like to take a look at our scores please visit
www.d4c.cc
Without the help of some people such a project would never have been possible. We must thank our technical partners:
Momobeam antennas (
www.momobeam.com
) for providing the antennas on our project.
Messi & Paoloni coax (
www.messi.it
) for supplying us with a double jacket coax cable to resist to hard humidity.
Coolqsl (
www.coolqsl.com
) to print our qsl cards.
Thanks to the more than 30 guest operators that allow the team to reach top scores.
Thanks to all of you that constantly call us during the contests.
We confirm qso's via LoTW, E-QSL and directly and bureau via manager IZ4DPV.
Our contacts:
Website:
www.d4c.cc
Shop:
http://shop.d4c.cc
(support us!)
E-mail:
info@d4c.cc
Facebook:
www.facebook.com/D4C.STATION
Twitter: D4C_team