ARRL has published the final results of the Sweepstakes CW contest held last November. Southwestern Division winners include SCCCers:
Ken, K6LA, Single Op, High Power and George, W6AYC, Single Op, Low Power.
Final results of SS Phone show K6AM winning the Multi Single High Power category! SCCC placed 3rd in teh Medium Club category with 2.55 million points.
CQ has published the final results of the 2018 CQWW DX CW contest. They report that while the excitement is always high, the number of entities worked in 2018 was down to its lowest level in the past ten years, 194 versus a high of 263. That said, Dan, N6MJ piloted ZF1A to 4th place World Single OP HP All Band! There is a great writeup by Dan in the mag about the annual competition in this contest between him and good friend Chris, KL9A. Chris (at TI7W) took this year's battle, and now has won 2 of 3 over Dan. In the article, Dan says they are investigating potential stations for next year's contest. I suggest the two of you swap 2018's stations for 2019. What say? Ken, K6LA piloted VY2TT to 8th in that category! Axel, KI6RRN placed 3rd USA Single Op LP All Band. SCCC 8th in the USA Club category, about 1.5 million points behind NCCC. We had 72 entrants versus their 95. Be sure to get on in November and submit your score for SCCC!
NCJ published the final results of the January NAQP SSB. N5ZO, KI6RRN, W6TK and W6AFA all placed in the top ten in W6. SCCC#1 placed 12th in the team category.
Final results of the 7th Call Area QSO Party (7QP) are out. This one is somewhat popular with SCCCers even though we are a bit close to work W7's on the higher bands. That said, Alex, W6AFA took first place in the Single Op HP Phone division for non-7's. John, N6MU took first place in the Single Op LP CW catergory for those outside of W7. Tim, N6GP placed 3rd in the same category. You'll find some other SCCCers sprinkled in the final results
here
.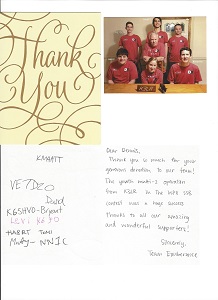 As you may recall, I sent a donation in the name of SCCC to Team Exuberance for the youngsters planned trip to K3LR to operate in the WPX SSB contest. The kids (including our own Levi, K6JO) did very, very well. The team sent us a thank you card for our donation. Click the image on the right for a larger view.
DAYTON HAMVENTION 2019!



The big announcement at Hamvention this year was from the guys at Elecraft! This should be interesting! The highly respected Elecraft K3 and K3S have been the choice of many top contesters and DXers for many years. Now, coming on the scene is the newly announced K4 and K4D! the P3 panadapter is no longer required! Elecraft describes the new user graphic user interface as super easy to use. The K4 has a new HDMI output with a few different video outputs available, and more to follow. They plan to have a 2m/440 option in the near future. The K4D is a step up and includes a diversity receiver, opening still more options on HF. But wait, there will be a K4HD too! This one will be especially good for contesters. All upgradable from the base K4. Check it out
here
! There are also many other videos on the K4 on the web. It sounds like a very well thought out, very modern rig!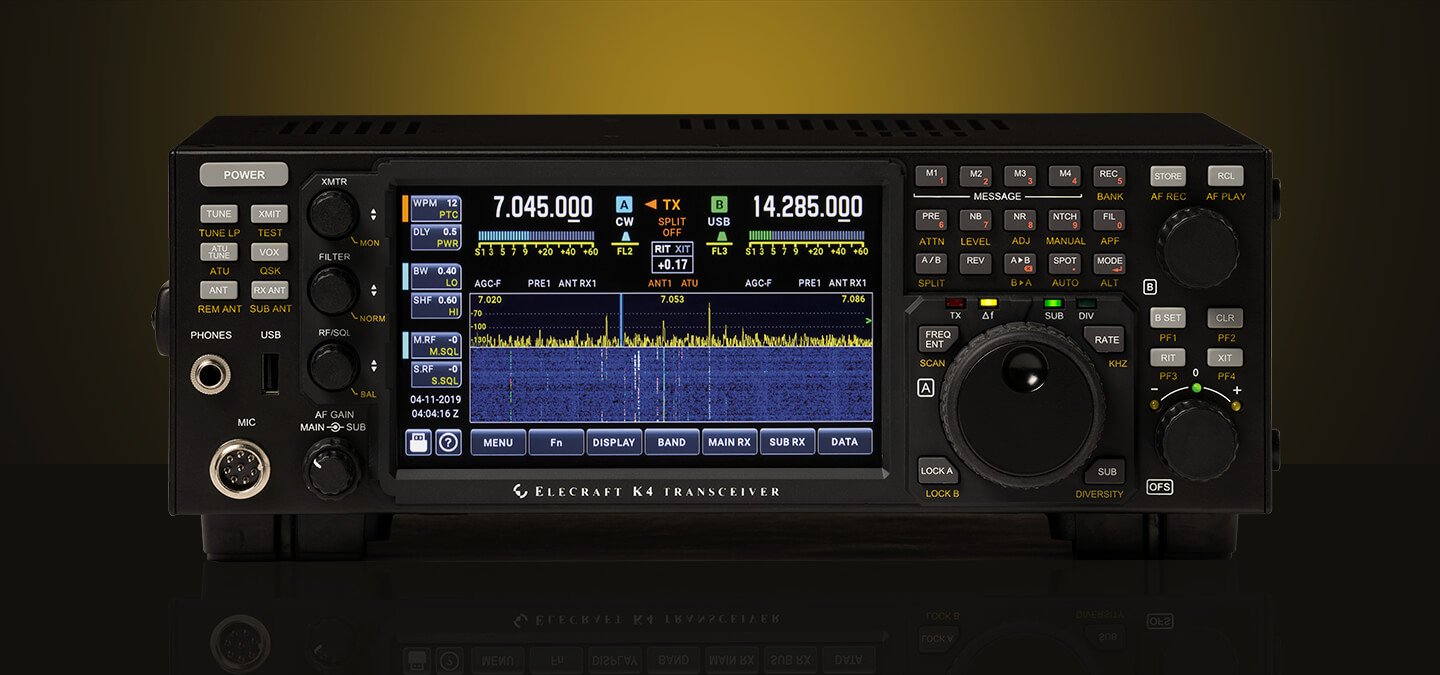 Watch an interview with Elecraft here.
Whew! My head is spinning! Can't wait to see some reviews! Elecraft is expecting to ship the first orders around the end of this year... K4 $3,999, ATU $399, K4D $500 extra (factory MSRP). More photos can be found
here
.
Also announced at Dayton was the introduction of the RF-KIT RF2K-S legal limit solid state amplifier available from DX Engineering. The amplifier also does 1 KW out on 6 meters. Watch the video
here
.
And a new HF clock with satellite tracking and solar index plus grayline. You can check this one out
here
.
Of interest to low power contesters perhaps was the announcement of the Mission RGO One, an all new homebrew HF transcievier. See it
here
.
SDRplay announced its new RSPduo dual-tuner 14-bit SDR receiver.
Check it out!
Flex Radio announced its new multiFLEX software (2 operators, 1 radio). Learn more
here
and
here
.
ARRL has announced that LOTW is now accepting contacts for the new FT4 contest mode. In order to submit FT4 QSLs, you will need to run TQSL manually and let it install the new config.xml file. The ARRL announcement can be found
here
. And in case you missed it, there is also a new version of TQSL (v2.4.7).
Bruce, WA7BNM announced a new addition to his
3830scores.com
web site. The new feature is an Activity Tracker. It allows one to select a given club and see submitted claimed scores over a number of time periods (up to one year). SCCC scores are tied to the Club Roster. Other clubs are tied to the operator's submission to the site. I am finding this to be a really nice addition! Click the "Activity Trackers" button on the top menu.
Strange but true...
Do animals grieve their own? Perhaps so--at least some animals. When an elephant dies, other elephants in the herd will cover the body with leaves and branches, and often will stay with it for days.
73 for now,
--Dennis NE6I
less