I was born in Toronto and grew up there, becoming a ham in 1953. In 1969 I decided to settle in New Zealand. Living in Hawkes Bay for the past 37 years has allowed me to erect antennas, build a good station and work a lot of DX. New Zealand is a great place to operate radio from.
In 2006 I decided to get serious about contesting and set up a competitive New Zealand contest team to do the Oceania and CQWW contests. A local farmer had a magnificent site about 20 miles north of Napier about a mile in from the Pacific and on a 300 foot hill with sweeping views into all parts of the world.
For approximately 180 degrees, the horizon is the Pacific Ocean looking East towards the Americas. He agreed to allow us to set up a permanent antenna farm and use his shed to operate from on the weekends.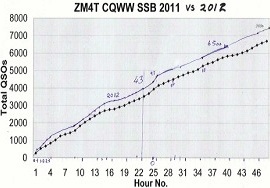 The ZM4T East Coast Contesters Team was born in 2006. We usually plan on contesting the Oceania, CQ WPX and the CQWW contests each year. Both CW and SSB modes are used.
Entries in the Multi – Single, Multi- Two and Multi – multi are decided upon depending on operator availability. Our scores have increased yearly, our equipment and skills keep improving and the team has grown to 10 members.
We often have quality guest operators from other parts of ZL who want to join us for the weekend. We usually rank #1 or #2 in ZL and Oceania for each contest. A contesting team is a fantastic way to bond with other hams and achieve lasting friendships while improving operating skills. You can see the team in action at
www.zm4t.com
Operating a contest from Zl is interesting as we are so far from the rest of the world. Pointing Yagis NE gives us all of the Pacific and NA. Moving the antennas to NW gives us EUs and most of Asia. A ZL (ZM) call is rare and we are highly sought after as Zone 32. When the bands are open we can easily generate huge pileups.
The downside of competing from ZL is the location itself. We are 42 degrees below the equator and Africa is not easy. With most of the big contest stations on the equator, NA or in EU it is often a struggle on 40 and 80 metres to crack the walls.
In 2009, we set a ZL Record in the CQWW SSB Multi two category. We did it again in 2010 and managed to better the ZL record again in 2012 and also came 1st in Oceania. 2013 has been a great year for the team setting new records again in the Oceania Contests and the CQWW contests in both CW and SSB modes.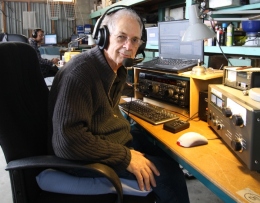 The reason we keep improving is constantly fine tuning antennas and equipment along with better strategy planning before each contest. We know what works for each contest and the a team debriefing after each contest brings out new ideas to improve our performance the next time around.
Our goal from the beginning is to have a fun weekends each contest and improve our operating skills. We have achieved that and more over the years and the the East Coast Contesters ZM4T team are looking forward to the next contest year in 2014.
The operators are: Lee ZL2AL, Stan ZL2ST, Gary ZL2IFB, Mike ZL2CC, Michael ZL2MY, Holger ZL3IO, Wayne ZL2WG, Peter ZL2LF, John ZL1BYZ
73, Lee ZL2AL
less