SCCC member Dan Craig, N6MJ is featured in QST's Member Spotlight article this month (November, 2019 issue). Dan was first licensed as KC6CNV in 1989 at the tender age of 8! Dan holds the record for most QSOs by a single operator in CQWW CW with 10,014 contacts after log checking! He accomplished this in the 2015 contest from ZF1A and is the only one to crack the 10K mark in that contest!
Looks like we had a good turn out for and some big scores in the California QSO Party. I Hope everyone had a good time operating this event! Yours truly was out of town for it and unable to participate. Next year though!
CQWW SSB conditions were especially punk. K7RA reported in his solar update posted on Friday of that weekend that the solar flux had sunk on October 21 to possibly the lowest level ever in recorded history, 64.0. The previous all time low was 64.4 on July 2, 1954. And the average solar flux for the week leading up to CQWW was also the lowest ever at 65.3. Talk about being at the bottom of the solar cycle! His prediction for the week starting Friday, October 25 was no better. SFI of 65 and an A index of 30 on Friday and 18 on Saturday. No bueno! At the start of the contest, the usual sites were reporting an SFI of 69 and A Index of 29. Ouch! And some will tell you that the SSB weekend is always much better than the CW weekend. Oh boy, let's hope that doesn't happen this year! Of note, the VP6R Pitcairn Island DXpedition paused two hours before the contest and readied themselves for a multi-multi effort. (They also expected to have a couple of stations on the WARC bands for the non-contesters out there.) Me personally... I didn't have a full weekend to dedicate to the contest but when I saw some spots on 10 meters, I was a bit surprised. So I got on barefoot and worked a few. Who knows, I might wind up top 5 in Zone 3 in my 10 meter assisted LP category hi hi! We should all do this sort of thing when time gets in the way. Just saying...
At least one SCCC team had a good time in CQWW though. Dick, N6AA and Art, W6XD paired up down in Panama at HP3AK (and turned in a fine score, I might add!). Their contest writeup on 3830Scores put a smile on my face. Here it is in case you missed it. "Small multi-multi effort essentially by N6AA-W6XD team. Station owner, Jay, was compelled to make a few of the QSOs, using a minimal amount of force permitted by law.
Although there is no unassisted MM category, the operation was actually unassisted. This satisfies rules of prohibition of external help required by religious beliefs of the operators, as well as permitting competitors to be listed higher up in the final results.
The operation was more enjoyable than what would have been possible from California, was an operation from a new place (recommended), and is/was an opportunity to see another part of the world."
Speaking of contests (hey, this is a contest club news thing, right?). I hope and wish and suggest that you are all configuring your contest software to upload to the contest scoreboards out there. And keeping an eye on them while operating. You can often configure them not to report band data (thus not alerting others to band openings; important in certain entry categories). Many contest committees have deemed them as not putting you in the assisted or multi-op category if using them (read their rules prior to the contest to confirm). Where all rules in this area are followed, it is interesting and motivating to keep an eye on these scoreboards. For me personally for example, the scoreboard often causes me to be on the air in the contest longer as I push to get higher in the standings. That is as a single op. I know some multi-ops use these scoreboards to keep track and motivate their teams to push harder. If you aren't already taking advantage of these cool tools, check them out!
WWROF CQWW SSB and CW Seminar by K1AR was Oct 13 at 1900 UTC. The link is https://wwrof.org/webinar-archive/cq-ww-ssb-and-cw-current-news-on-your-favorite-contests/
The ARRL has created three new online groups (forums) for members and non-members to communicate with leadership. ARRL says the new groups "are aimed at enhancing communication among leadership, staff, members and prospective members." One of the new groups is the ARRL-Contesting group, moderated by ARRL Radiosport and Field Services Manager Bart Jahnke, W9JJ. More info and links to the groups can be found
here
.

Over the years, VY1AAA found its way into many of our contest logs, much to our delight! The club station was hosted by Jay Allen, VY1JA and put the Yukon Territory on our multiplier list in many a domestic contest. Jay's QRZ web page reports that he has had to go QRT due to health reasons. The VY1AAA station (which had been operated remotely in recent years) was to go QRT effective 22 Sept this year. Howeever, there was a slight reprieve when Jay and his XYL needed to dedicate another two months to their goat farm before taking down the station, this according to the VY1AAA trustee, Gerry W1VE/VE1RM. This will allow operation of VY1AAA during ARRL Sweepstakes CW and Phone. After those, barring another reprieve, the station will be dismanatled and sold. All equipment donated to the remote operation of VY1AAA is under the ownership of W1VE. Gerry is actively seeking another location for a remote station, preferrably in the NWT or Yukon.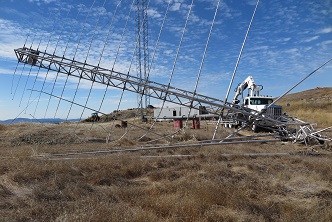 We are hams. As such, we love antennas. Very few of us would not love to put up something bigger. Something better. Something higher. We are almost never satisfied with our antenna system, whether it's a simple dipole low to the ground or a multi-tower array with multiple antennas on each band. Well, Doug, W6DSR up in Sunnyvale (NCCC/NCDXC territory) set out to put up something BIG. He settled on the U.S. Antenna Products LP-1005 log periodic. This thing is massive. Monstrous. Gigantic. It can handle 25 KW
average
power, and well, if your voice peaks happen to hit 50 KW, it can handle that too!. It provides forward gain of 10-13.5 dBi over 3 to 30 MHz. No antenna switching required. No tuning required. No controller required (IE SteppIR). This antenna is not for the light hearted. It weighs in at 2,100 pounds! Wind surface area is 120 square feet! The boom is 72 feet in length and the longest element is 104 feet plus! Yeah, a Hygain HDR rotator isn't going to cut it!! Doug has an extensive story covering installation and testing of this monster, along with a little accident that happened while effecting repairs. Ugh! We've all had some antenna mishaps, I'm sure. But on this scale?! I'm fairly certain you will cringe when you get toward the end of the story and see what happened. But wait! He rebounds and gets repairs quickly under way. Hooray for hams! We persevere no matter what! Read the story
here
.
Mark, KA6WKE recently posted a video on the SCCC Reflector discussing his battle with and solution for RFI. In case you missed it, click
here
.
We've mentioned the television show "Last Man Standing" here before. On the show, Mike Baxter is KA0XTT (character and fictional call sign) played by actor/comedian Tim Allen, whose real life call is KK6OTD. His TV show ham station is often seen in the show and has played a part itself a couple of times. Well, this coming season, their eigth, begins this January. The station will get a makeover. The QSLs seen prominently at the operating postion are gone but a new Worked All Zones (WAZ) certificate replaces them. The show airs Thursdays at 8:00 pm on Fox. The storylines are rarely about amateur radio, but it's nice to see a ham station on TV regularly.
Strange but true...
The name for the shape of Pringles is called a "Hyperbolic Paraboloid."
73 for now,
--Dennis NE6I
less