DL1A is a privately owned station located about 15km west of Munich. The station owner is Tof DJ6ZM who is operating from this location since the late 60s. All towers and antennas are located on the roof of his furniture store, a two storey building measuring approximately 40m x 15m. The station is used for Contests as well as for individual remote operation via Internet.
The QTH is located in the city center of Germering a suburban town of Munich with approx. 38.000 inhabitants. Train station, restaurants and hotels are within walking distance which is nice, but obviously the location suffers from man-made noise - particularly on the low bands.
Serious Contest operations started around 2008 when several active contest operators moved to Munich and joined the activities at DL1A.
Currently the core team consists of DJ6ZM DJ1YFK DJ2QV DK7AH and DO4DXA. But there are many other operators and helpers, such as DD1LD DF9TS DH7KU DJ3WE DJ0ZY DK4AA DL3OBQ DL9NEI DK8MZ DK9CG and DL1MDZ. Also guest operators like DJ5MW DL2OBF W4PA S56A HB9CVQ or KJ5T have been active from the station.
All antennas are installed on 3 towers on the roof (approx. 10m high) due to the limited roof space. Tower 1 is a 31m full rotating tower which is equipped only with Monoband Yagis. Tower 2 is 17m high and equipped with an Optibeam 17-4 and a 2 ele Yagi for 30m. Tower 3 is 10m high and holds an Optibeam OB9-5. 160m TX is a wire inverted L between the towers and an active RX Loop.
In total 10 Antenna cables enter the shack and they can be switched to any of the 5 Radios by means of a Microham Switch Matrix. All monoband antennas are equipped with 4O3A high power bandpass filters. This allows remote operation of up to 5 people simultaneously on 5 different bands. A homemade bandlocking device ensures that two stations can never operate on the same band in order to avoid receiver damage.
During Contests we usually combine the antennas of two stations with a Microham Stackmax, so we can cover two directions simultaneously from two Running stations. A third station remains available as backup or as an interlocked Multiplier search station.
We use different types of radios. For remote operation three stations are equipped with TS-480s and remote rig Interfaces. These can be switched over to FT-2000 during contest operation. A FT-DX 5000 and a K3 are also used via remote and during contests. The two main amplifiers are ACOM 2000As and the other stations are equipped with Expert 1K or 2K.
The shack features two operating rooms, a "meeting room", shower and a large storage and bedroom.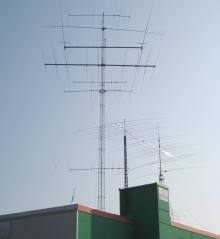 We usually operate the major CW and mixed mode Contests like ARRL-DX, Russian DX, WPX, WAE, WAG and CQWW-DX in the M/2 or M/S class as DL1A or DM9K (in WPX). Occasional M/M operations have taken place (DA0HST) but the station is not really capable for M/M. In 2012 and 2013 we have operated the german headquarter station DA0HQ on 40m CW.
Lately we have also been using a second inband station to S&P in parallel on at least one RUN band, however we have no RX Antennas far away enough to allow us to listen while we are transmitting, so this operating mode only gives us a small but still useful advantage.
Unfortunately the future of DL1A is currently uncertain. Very likely the furniture store will move to a different building very soon and we have to take down all masts and antennas probably this summer. Currently we are searching for a new location in order to keep the down-time as short as possible. Keep your fingers crossed for us.
More pictures:
1
2
3
Maik DJ2QV for the DL1A Team
close