(Wayne) and W6TAI (Carrie) operated from Rarotonga in the South Cook Islands for two contests in 2012. We stayed at the same motel where the E51Z group operated CQ WW phone in 2011 and benefited greatly from their experience on the island. On the first trip, Wayne operated the ARRL International DX Contest SSB as E51YNB in the single operator, single band (15m) category while Carrie concentrated on hiking across the island and biking its perimeter. Operation was limited to 11 hours in order to catch the weekly flight from Rarotonga to the United States which departs on Saturday nights.
The station consisted of an IC-7000, a small THP amplifier and a two element Yagi on a mast mounted on the motel's second story balcony. It was a home made single band (15m) yagi that was broken into short pieces to fit in a 30 inch rolling duffel bag.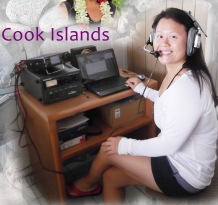 On the second trip, Carrie operated SSB only in the 2012 IARU HF World Championship ("IARU Radiosport") as E51TAI in the single operator high power (unassisted) category. For this contest the station was the same but the antenna was a TH-2 tribander and a 16ft mast with a TV-type antenna rotator that had been shipped out in advance and stored by E51CG. Victor and his wife Eleanor extended us wonderful hospitality.
For N6NB, it was a first-ever overseas HF DXpedition after 55 years on the air. For W6TAI, it was a first experience as a single operator in a DX contest. We were both astonished by what we heard during the contests, there were huge pile-ups. For N6NB, it was all North American stations because only W/VE contacts count during the ARRL DX test. For W6TAI, it was a worldwide contesting experience, limited only by the effects of a solar flare that curtailed propagation (especially to Europe) during IARU. Thanks to everyone for being patient with us. Some waited 30 minutes or more to get through as we struggled to sort out the strong signals.
Stations all across North America and Asia were loud on one band or another all day long and much of the night. The suitcase station seemed to work really well and conditions were generally good (in spite of the solar flare that hit during IARU). We each made over 1,400 contest contacts despite limited operating time.
A surprising number of those contacts turned out to be with people using less than five watts or low-profile antennas in communities where outdoor antennas are prohibited. Probably a more experienced DX contest operator could have made far more contacts than we did in the same amount of time, but it was a memorable experience for both of us.
If you have a good signal from there, you will acquire a pile-up within 60-90 seconds. You will be spotted that quickly. It is a favorite destination for DXpeditions because there is a non stop flight from Los Angeles plus a motel with a prime radio location. Put up a modest antenna there, run 500 watts and you are guaranteed a big signal. The video and audio clips I have heard are amazing.
less