Welcome aboard to our first new member of 2019, Stephen, K6AW! Stephen hails from Santa Barbara and enjoys HF contesting.
Have you heard this before? "Read the contest rules before starting the contest." That one hit home for yours truly last month. I added my call to the SCCC #4 team in NAQP CW so as to fill out the five member team. I knew I had limited time to operate but thought I could get in a few dozen Q's. I wound up having a little more time than I thought though. Surprisingly (at the time), I was able to work everything I could hear, even the extremely weak stations. Having fun with that, I put in more time than I expected and logged 135 contacts in just over three hours of mostly S&P. I had to admit that I was pretty happy with that. The following morning, I noticed that almost all of the entries on 3830scores showed as low power. DOH! I'd run high power the entire time, totally forgetting the fact that NAQP is a LP affair. Sorry SCCC #4. The NE6I log became a checklog. Repeat after me, "Read the contest rules before starting the contest." And take nothing for granted!
ARRL reports a "dramatic uptick" in the number of logs submitted in this year's ARRL RTTY Roundup (which took place the first weekend in January) as compared to 2018. Their informal polling indicates that RTTY and FT8 successfully shared spectrum during the contest as well. Early returns indicate that most operators operated one mode or the other but a small percentage operated both. WSJT-X co-developer K1JT logged an astounding 585 FT8 contacts during the contest! As a reminder, if using FT8 in an ARRL contest, you must enter one of the Unlimited categories if operating single operator. This is because WSJT-X is a multi-decoder.
Preliminary results for the ARRL SS Phone contest are now out. The K6AM station is atop the MSHP category. Full results will be published in the June issue of QST.
Preliminary results for the January NAQP CW are also out. Marko, N5ZO shows as 2nd place overall, followed closely by Axel, KI6RRN in 3rd. The SCCC #1 team shows as 2nd place in the team competition, with only 65K and a smidge points separating us from the top spot in a 1.3M point battle! Oh so close! Those preliminary results can be viewed
In the ARRL September VHF Contest, Bruce KG6IYN finished second in the Single Op, 3 Band category and John, K6MI placed 5th in the Unlimited Rover category. As this was written, the January, 2019 edition of the contest had just taken place. Conditions in Southern California were less than great, but there were definitely Sporadic-E openings on six meters late Saturday and Sunday.
The 2018 ARRL November Sweepstakes CW results have been published. There is a humorous (or some would call it sad) blurb in the writeup that captures the essence of the 2018 contest: "Welcome to Sweepstakes at the bottom of the cycle: when 10-meters is a wasteland, 15 only slightly better and the bulk of activity is concentrated on 20 during the day." No kidding. The article reports that there were only 7-14 QSOs on 10 meters in the submitted logs. Wow! Dave, K6LL placed 6th overall in the SO Unlimited HP category and right behind him was Marko, N5ZO. Full results can be found
here
.
In the 2018 ARRL 222 MHz and Up Distance Contest, Wayne, N6NB ran through 8 grids to log 231 contacts. Greg, W6IT accounted for many of those, and logged 117 Q's to post the regions' top SO score. Full results for this contest can be found
here
.
And in the North American Sprint RTTY, September edition, Levi KK6NON (now K6JO) placed 7th overall, and 2nd in the Low Power category! Nicely done! We didn't enter any teams in this one but if we had, the SCCC team would have placed fourth.
Somewhere in my travels, I came across a company in Japan that makes a MASSIVE antenna for amateur radio. The Versa Beam KA-1 411X operates on 40 through 6 meters and sports a boom of 20 meters in length (just over 65 ft)! The beast has 5 elements on 40/30 meters, 7 elements on 20/17 meters, 9 on 15/12/10 and 15 elements on 6 meters! The gain figures are crazy. 15.6 dBi on 20 meters, 17.2 on 15 meters and 17.6 on 10 meters. By comparison, the SteppIR MonstIR DB-42 is spec'ed at 10.1, 11.0 and 12.2 dBi respectively. Obviously, the two antennas are not quite in the same class as each other, other than being massive pieces of hardware and the top of the line for each of the two manufacturers. The OB16-5 by Optibeam comes close but is shy in the numbers a bit. Want to check out the Versa Beam yourself? Slide on over to their
web site
and check it out for yourself. (I don't mean this to be an advertisement or endorsement of Versa Beam. I'm simply admiring this massive antenna!)
Carl, K9LA writes a column about propagation and has long been fascinated by the subject. In his article in the recent issue of NCJ, he says the current solar minimum will be another long one. He says that the Cycle 25 peak should occur in 2022 or 2023 and will be lower than Cycle 24. Ugh. The earthsky.org web site suggests that the bottom of Cycle 24 will occur in December of this year.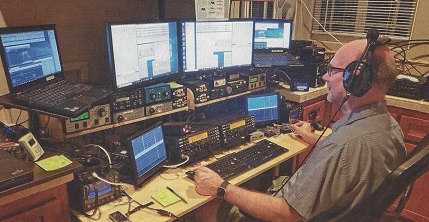 Now we know the secret to Marko's N5ZO big scores! Lots of video monitors! Not to mention a plethora of equipment in his finely equipped station! This photo, courtesy of QST magazine, shows Marko operating SO2R in the NA Sprint CW. His station sports a pair of Elecraft K3's. It looks an awful lot like he is smiling here, and he well should be. He cracked the Top Ten in this particular Sprint!
If you subscribed to the free weekly Ohio/Penn DX Bulletin edited by KB8NW, please note that the server HAMNET.org, which he has used since the late 1980's, was hacked and wiped on January 11. The Mailing List is currently in limbo. The weekly bulletin may still be accessed on the web at
www.papays.com/opdx.html
. More details about the hack can be found at the top of Bulletin 1399 (January 21, 2019 issue).
It has been reported that there have been some changes to the rules that will be in effect for WRTC 2022. The initial qualification rules can be found
here
. The change log is reportedly as follows.
2. Category Weighting for SO-LP is 0.9 and for SOA-LP is 0.85
2.1, 2.2 Clarified that SOSB and SOAB of the same power level are compared directly for Qualification Event Scores
2.5 WRTC-Style MS/M2 teams have been removed.
3. Selection Areas (SA) and Team Leaders (TL) (renamed)
New column headings TL from Continent and TL from Area
Removed limit of max. 2 per country from EU
Increased TL for EU from 17 to 18
Moved OX from EU#1 to NA#2
Moved OY from EU#3 to EU#1
Moved UA1 from EU#1 to EU#4
EU#1, EU#2, and EU#4 have 2 TL, EU#3 has 3 TL
NA#4, NA#7, NA#10 changes
Added VP9 to CA#1
AS#4, AS#5 changes
SA#1 – noted that PJ only applies to PJ in Zone 9
Moved PY0S/PY0F to SA#2, leaving PY0T in SA#4
SA#3, SA#4 changes
List of exceptions to 1 TL per country rule. Added note that TL must qualify, not guaranteed slot except for UA1/UA3/UA4
4. Added special scoring for UA and non-UA stations in RDXC.
5. Corrected regular MS/M2/MM scores to 4.
6.1 Noted the process of choosing TL/TM for Sponsored or Wild Card is TBD.
6.2 Changed to last three WRTC and top twenty (20) places, including Sponsored and Wild Card TL
6.3 Required proof of license and permission for scores from outside SA of residence
6.6 New Determination of Home SA rules
7. New TM qualification rules
7.2, 7.3 Clarification that TM rules does not apply to Sponsored Teams
8. Reduced Youth Teams from 7 to 6
Strange but true...
Your body is creating and killing 15 million red blood cells per second!
73 for now,
--Dennis NE6I
less