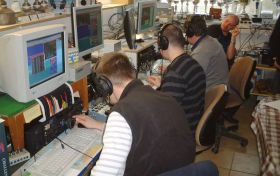 At the creation of the radio club in 1981, all members were all employees of La Poste and France Télécom housed in France Télécom premises. We opened membership to our friends outside these companies, still with a quota to respect. We participated in a lot of Field Day activities, for which the infrastructure had to be carried.
Following the changes in management of the company that hosted us, we had to move three times to finally find a location 25 Km east of BORDEAUX, at locator IN94UT.
TM0R is the special call used by the F6KNB radio-club members. F6KNB belongs to the RADIOAMPT Association (La Poste and Orange staff) associated with the REF. Other friends are part of the amateur radio club too.
more
| | | |
| --- | --- | --- |
| | | |
| 4 el 40m + 2x 11 el 2m | 2 el 40m + 5 el 15m | 5 el 20m + 7 el 10m |
Our interest in the practice of radio, in addition to technical aspects, resides in participating in national or international contests.
The atmosphere between OM / YL is like in a family, everyone works so that our station can run smoothly. In between contests, everyone works on maintenance of RX and TX antennas, beams, wires, beverages which winds and bad weather occasionally tear down.
Equipment modernization and updating software is also part of the work required for the operation of a station worth to compete for the top scores.
What a pleasure to contact California ... Hi ... The Pacific Islands and all those distant regions far from France...
Each operator is trying to improve and progress in his operating skills, participating in major international competitions. (CQ WW SSB and CW, SSB and CW WPX, ARRL DX SSB and CW, RUSSIAN DX CONTEST, etc ...).
See you on the air 73s - Jean Louis Zabalza F5GGL
less