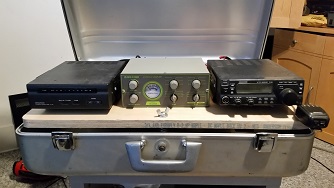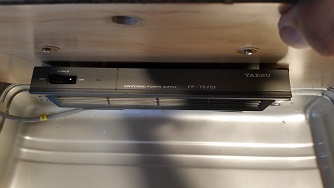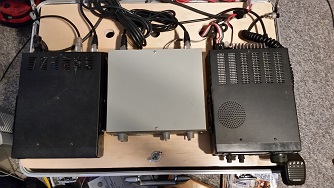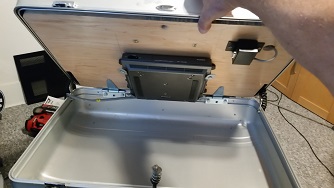 Complete Kenwood TS-50 radio station.
Radio and tuner have some scratches on the covers and the radio tuning knob has a small crack. The TS-50 front display panel lights are not working. Other than the panel lights I do not know of anything else wrong with the setup. It is being sold AS-IS.
You can plug it into the wall or hook up to a battery. All interconnecting cables are included. Just open the case -- hook it up to your antenna--power it up and you are good to go!
Included in the ZERO Centurion Elite water repellent case is--
Kenwood TS-50 with Kenwood Microphone and CAT interface (TTL converter NOT included) with mounting bracket.
Kenwood AT-50 antenna tuner with connecting cable to TS-50 with mounting bracket.
Tokyo Hy-Power 200A 200 watt antenna tuner. I used this for tuning antennas that the AT-50 is not designed for.
Yaesu Switching Power Supply FP-757GX.
I just used the entire setup for a contest and it worked great on everything from USB to FT8. I used the setup with a 30' end fed wire antenna that is not included.
The weight of the loaded ZERO case is 43#. Case outer dimensions are 26" x 9" x 18".
$595.00
Seller: Alan, AA6DW alan.corlin [at] gmail[dot]com
Posted 9 Oct 2018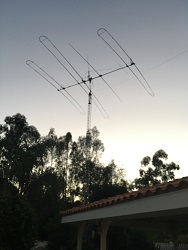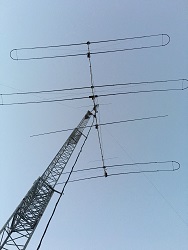 I have a two year-old SteppIR DB36 with 80 M dipole option for sale. The stepper motors, controller, etc all work perfectly, and the boom and trombones/straight fiberglass poles are in good shape. You will likely need to replace some of the small parts (some bolts and Nylock nuts), but can have a working DB-36 for less than half of what it cost new.
I'm selling the antenna because the trees near the antenna became so large that tilting it over was becoming impossible, and I purchased a DB-18E to replace it. I have some extra fiberglass poles that I will include, and I guarantee that the antenna will work (motors, etc.).
Due to the weight and size, I'm thinking it's going to have to be a pickup in the San Diego area. I might be willing to remove the heat shrink couplings and try to box it if the buyer covers the shipping charges (FedEx ground).
Asking $3500 for everything.
Seller: Eric, NC6K egruff [at] cox[dot]net
Posted 9 Oct 2018, renewed 3 Mar 2019
---