Rescuing old history and referring to its entangled past, it is not that far away that we produce the sensation of reliving it again. That is what I feel when I refer to the "HD2A dream".
I cannot fail to mention Roberto-HC2GT and his enthusiastic activities to stimulate HC2 amateur radio operators. Today, because of personal health issues, Roberto is mainly dedicated to fighting for his own survival. The following is a brief tribute to his efforts in supporting our activities.
When was HD2A born? Was it born with some general radio activity on an Ecuadorean beach 20 years ago or in some contest somewhere on the beach? It's not important now. The true inspiration and the spirit of competition without a doubt came from Alfredo-HC2 Sapo Loco (Crazy Frog), a global winner of many CW competitions over the years.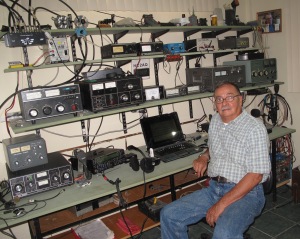 On the eve of one of those past events I received a telephone call from Robert-HC2GT, asking if my Kenwood TS-940 and TL-922 and home antennas were available for a contest operation.
I was happy to oblige and meet his needs. We operated, not very seriously, from the library of my home in the multi-single category and all of the equipment worked perfectly, just like Swiss watches.
Shortly thereafter, my ranch which is 20 miles North from Guayaquil named "La Guadalupe" was remodeled and we moved to that location. In the presence of lots of beer, BBQ's, humid heat and mosquito's we hoisted up dipoles for 10, 15, 20 and 40 meters. We made plenty of QSO's that evening. Vatican on 15m, WOW!!! We even ran the HC NET "Cadena HC" that evening on 7.060 mHz LSB from 0000-0100z. The HC NET "Cadena HC" has been running continuously every day for over 32 years. That evening the seed was planted for a more permanent contest station.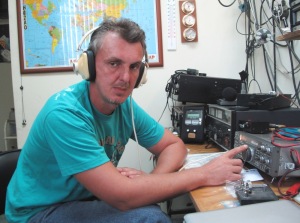 Air conditioning was installed in the shack and new power outlets were installed for both 110vac and 220vac, ground rods, etc. The shack was also supplied with better lighting and new furniture including bed for resting between operating. Once completed, the shack was named "Sapo Loco" (Crazy Frog), in honor of Alfredo-HC2SL. When the station was completed, Alfredo-HC2SL announced, "lets fill the walls with diplomas and plaques!" We are seeking that goal. Now counting with the never ending energy and help from Alex, UA4WAE/HC2AO who continuously improves and maintains antennas at the station.
For many of us, contesting ended up being a serious challenge in order to meet some of our personal goals and to improve our operating techniques. Not everyone was able to meet the hard challenges. Personally, I find contesting a way to help fine tune personal growth. When we are contesting, we are always in training to improve ourselves in one way or another.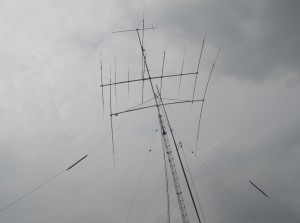 The HD2A station has previously been used twice by the SK6M Swedish Contest group signing HD2M. We have also enjoyed visits and operations from Hams Worldwide such as from: JA, W, OA, LU, DL, UA, VE, I, EA and HK…and others that I cannot recall at this moment.
We appreciate the efforts of others that have donated items such as tubes, relays, filters, and other items in order to maintain our multiple transceivers: TS-590, TS-2000, TS-430, TS-130, Yaesu FT-901MD and amplifiers: TL-922, DTR-3000, Drake L-7 and Heathkit SB-220 and 200. We also appreciate those that loan us their own personal equipment for use during contests.
For antenas we have multiple arrays: 5 element monoband Yagi's for 10 and 20 meters, a 4 element monoband Yagi on 15 meters, a 2 element Yagi and an Inv-V on 40 meters, an inverted-L on 160 meters, a vertical for 80 meters.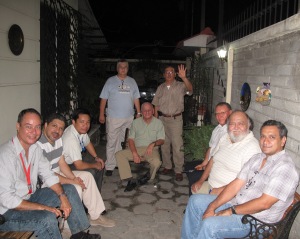 Some of the antennas have been modeled and designed by Alex, HC2AO. We also have Beverage receive antennas favoring JA, EU and the USA/VE.
We would also like to recognize others that have participated in one way or another in helping the HD2A contest station: Allan-HC2A, Victor-HC2DR, Tobi-DH1TW and Rick-NE8Z/HC1MD.
Part of my personal Code of Conduct comes from the Creed of the Junior Chamber International, "the brotherhood of man transcends the sovereignty of nations." This motto comes alive in all of our DX contacts.
More pictures: 1 2 3 4 5
Download PowerPoint presentation "
VISTA AEREA DE GUAYAQUIL
" (5.8Mb)
I now leave you with these final sincere words: HD2A from Ecuador, in "the heart of the world", awaits your calls and your visit also!" 73, Alberto-HC2AQ
close