Well hello everyone! Today was our Capture The Flag Fox Hunt sponsored by the Hudson Valley Direction Finding Association of Orange County NY. This was the first event of its kind in this area and I am happy to report, a success.
We had two teams made up of four hunters each. TEAM EAST was comprised of K2STN (Team Captain), KB2SSZ, WA2KOT and WM2C. TEAM WEST was comprised of AC2O (Team Captain), N2KI, N2DBD and KC2YYF.
The event promptly started at 10 am with a four hour time limit. The WEST team hid their transmitter in Highland State Park.
Promptly at 10am the transmitters were activated. Both teams were required to take their first bearing from where they hid their transmitter.
From the TEAM WEST location, we all concurred on the first bearing of 133 degrees. We then set out in different directions to obtain more bearings so as to triangulate the signal.
KC2YYF heading east and N2KI headed south west. AC2O and N2DBD followed along the bearing zigzagging their way and obtaining bearings on the move. With AC2O's setup, it made this very easy to do.
All the while, we coordinated our information on a local repeater. It didn't matter if TEAM EAST heard us discussing our data because they had a different mission. A couple of more bearings from N2KI put the signal into Goose Pond Mountain State Park a little over 12 miles away. This was confirmed by AC2O and N2DBD.
Driving west along Rt 17M, just as I was passing the park I was able to tune 10 kilocycles off and still have a full scale signal. So it was surely in this area.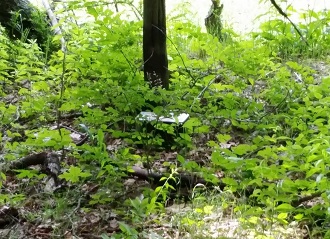 TEAM WEST members all arrived at the parking area just about the same time. Using a 4MHz active attenuator proved to be the tool to use for sniffing out a 5 watt transmitter in close proximity. It is really amazing how you can just walk up to the transmitter using this method with a tape measure beam.
One hour and twenty-one minutes after the start, we had found the box. Victory TEAM WEST! We dialed the phone number on the box and read the code statement affixed to signify we had found it.
TEAM EAST continued on to pursue the WESTS' transmitter to further hone their skills, they successfully found it by about 1 pm. What a great job by all the participants. We all had a great time and are looking forward to the next event!
Information and photos from this event will be put on the
HVDFA website
soon. That's it for this edition from the HVDFA, Orange County NY.
close